"SAVE THE DATE"

Yankee Fair and Barn Sale Saturday, October 14th, 2017

Welcome to the Yankee Fair and Barn Sale

The Yankee Fair and Barn Sale at the Congregational Church of Brookfield will be Saturday, October 14 from 9:00 a.m to 3:00 p.m. at the crossroads of Routes 25 and 133 in the Brookfield Historic District. The theme this year is "Welcome" because, "No matter who you are, or where you are on life's journey, you are welcome here."

Proceeds from the fair will be donated to I.R.I.S. refugee resettlement, and Silver Lake camp scholarships.

This year's Yankee Fair and Barn Sale will continue to offer all of the traditional booths everyone loves, including Quilts, Crafts, Garden Shop, and SERVV along with the new "She Shed" on the first floor of the church. In Fellowship Hall, you will find baked goods, Used Toys, Used Books, Fudge, and Cheese. Autumn Harvest will fill the courtyard with flowers and pumpkins, and a huge Silent Auction can be found in Brooks Hall, near the church Sanctuary.

A perennial favorite, the White Steeple Inn, will serve a delicious sit-down lunch with homemade pies. The grill will makes breakfast sandwiches in the morning followed by classic grill choices for lunch.

The Barn will be full of furniture and treasures, the Thrift Shop in the Parsonage will become Second Hand Rose, and the Cottage will house Collectibles. You won't want to miss the Family Fun Zone or the roaming magicians! If you have a soft spot in your heart for animals, you might meet a potential pet from a local area rescue. The barn opens at 8:00a.m.

The day will be filled with music. A DJ will start the day, followed by the Still River Ramblers and Dan's Garage Band.

Admission and parking for the Yankee Fair and Barn Sale are Free.

Clink here to a Google forms sign up link or
scan the QR Code.

---

2016 Yankee Fair & Barn Sale
Saturday, October 15th, 2016


We are pleased to be your 2016 Yankee "Share" Fair and Barn Sale chairs this year!
In keeping with our church vision, Pray-Share-Welcome (and we are in a Share year), the theme of the 2016 Yankee Fair and Barn Sale is sharing. We are looking for fun ways to tie sharing in to the fair and we would love you to share your ideas with us! We will share 50% of the proceeds with Brookfield Social Services, and the remainder will support programs at CCB through our Christian Growth and Enrichment Fund and our Buildings and Grounds Fund.

The Quilters, Crafters and Garden Booth have been working for many months getting ready by creating wonderful homemade items for their booths. If you are a home crafter and would like to contribute items, please contact one of us and we will get your creations to the proper place. Also, we would love lots of baked goods for the bake shop and coffee shop. We are requesting this year that each edible donation be labeled with ingredients. Although it is always a delightful surprise to guess what is inside, we would love it if you would give us a general idea (i.e. nuts, artificial sweeteners, peanut butter, etc.)
If you have not found a place to put your time and talents to work for the Yankee Fair and Barn Sale we would be happy to find the perfect way for you to spot for you. Share your time and talents with the wonderful people of our church family to make the 2016 Yankee Fair and Barn Sale the best one yet!

Faithfully, Your Share Fair Chairs, the McMurphagans
(Kristi & Pete McPadden, Mike & Robin Murphy and Carol & Jim Eagan)

---

Yankee Fair
and Barn Sale
October 17, 2015

"REFLECTIONS"

With every passing season, the sun changes its angles. And in autumn, we are blessed by cooler days, crisp apples and orange pumpkins, the ever changing foliage, and our amazing Yankee Fair and Barn Sale. The theme for this year's Fair is "Reflections", and has as its centerpiece an amazing piece of art painted by our own Nancy Desmond. "We chose to showcase this lovely painting because it depicts a beautiful Country Church during the autumn season that has for so long signified the coming of the Fair."

Many think of "Reflections" as a look back on our past. But in 2015, our Church is reflecting on the future! We've proven that this year by harnessing the energy and reflective power of the sun through solar power. Our Church is running on all cylinders, not only through the power and grace of God, but in a new way. Electricity is generated when sunlight falls on our solar panels, just like when God's power falls on us, yielding the energy to get our work done at the Fair. Our solar panels work in unison to channel the energy they collect, just like our volunteers work together to make the Fair such a success! And our Church is solidly positioned in the center of Town, extracting the maximum performance of our open and affirming Congregation just like our solar panels are aligned to receive maximum sunlight throughout the year. "Reflections" – recalling our proud past, while faithfully looking to the future.

Our Church has a long and storied history of support for wonderful projects both locally and globally. The Church in Society Committee theme this year is Body, Mind and Spirit, and they have agreed that the proceeds for the outreach portion of the Fair funds in 2015 will go to Silver Lake Conference Center – our outdoor ministry and youth camping program of the Connecticut Conference, United Church of Christ – as it best embodies Body, Mind and Spirit for all those lucky enough to visit there. We will take the opportunity on Fair day to showcase what Silver Lake has meant to so many members of our Church.

As we all know, the most important part of the Fair is the people! We have many volunteers who give their time and talents to work in the booths and the Barn, and many more who are behind the scenes ensuring that everything is operating smoothly for the huge crowds that show up on Fair Day. These volunteers also spread the Good News that is the Yankee Fair and Barn Sale, ensuring that we have large and enthusiast crowds on site who support our efforts.

The Yankee Fair and Barn Sale will continue to offer all of the traditional booths everyone loves, including Quilts, the Garden Shop, General Store, Crafts, and SERRV on the upper floor; and Silent Auction, the Coffee Shop, the Bake Shop, Cheese Booth, Used Books and the Fudge booth downstairs. Autumn Harvest will fill the Courtyard area with flowers and pumpkins. Of course, the White Steeple Inn will offer delicious lunch selections and homemade pies. The Grill will be serving up wonderful breakfast sandwiches and lunch choices. Second Hand Rose, Jewelry, Collectibles, and Used Toys will be over in the Parsonage and the Cottage. As always, the Barn will be full of treasures, and there will be Games aplenty for the children. Once again, the Yankee Fair and Barn Sale will feature live musical entertainment throughout the day!

Admission and parking for the Yankee Fair and Barn Sale are free. Proceeds support church programs, charities, and of course Silver Lake Conference Center.

We wish to thank everyone for sharing your time and talents in working together to make the 2015 Yankee Fair and Barn Sale a huge success.

Faithfully,


Wendy Elsen, and Mark and Lyn Lyon
2015 Yankee Fair and Barn Sale Chairs
---
Refugee Resettlement Ministry

Christian Growth & Enrichment Fund

Danbury ARC – Association of Religious
Communities

(domestic violence prevention, food pantry, & transitional housing for homeless families)

Silver Lake Conference Center

(youth camping program of the Connecticut Conference, United Church of Christ)

Simply Smiles

(a nonprofit that works with impoverished children in the United States and Mexico)
---
At last year's Yankee Fair and Barn Sale
October 18, 2014
Last year's Yankee Fair and Barn Sale theme was Mission Possible!
Our church has such a rich history of mission work, and continues to support wonderful projects both locally and globally. We will take the opportunity on Fair Day to showcase many these CCB missions in an extravagant display in Brooks Hall throughout the day of the Yankee Fair and Barn Sale.

The most important part of the Yankee Fair and Barn Sale is the people! We have so many who volunteer their time to work in the booths and the Barn, and many more who are behind the scenes ensuring that everything is operating smoothly for the huge crowds that show up on Fair Day.
The Yankee Fair and Barn Sale will offer all of the traditional booths everyone loves, including Quilts, the Garden Shop, General Store, Crafts, and SERRV on the upper floor; and Silent Auction, the Coffee Shop, the Bake Shop, Cheese Booth, Used Books and the Fudge booth downstairs. Autumn Harvest will fill the Courtyard area with flowers and pumpkins. Of course, the White Steeple Inn will offer delicious lunch selections and homemade pies. The Grill will be serving up wonderful breakfast sandwiches and lunch choices. Second Hand Rose, Jewelry, Collectibles, and Used Toys will be over in the Parsonage and the Cottage. As always, the Barn will be full of treasures, and there will be Games aplenty for the children.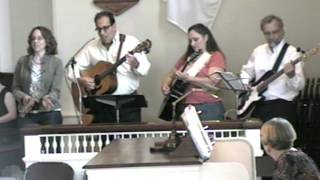 This year, the special live musical attraction will be our very own Still River Ramblers.
Admission and parking for the Yankee Fair and Barn Sale are free. Proceeds support church programs, charities, and of course our continuing mission work.
Thank you everyone for sharing your time and talents in making this year's Yankee Fair and Barn Sale a huge success.
Faithfully,
Mark and Lyn Lyon, and Wendy Elsen
2014 Yankee Fair and Barn Sale Chairs
---
For Photos of the event, click here or here.
---

The Congregational Church of Brookfield is at the crossroads of Routes 25 and 133 in Brookfield Center. For more information, call 203-775-1259.