---
ONGOING AND UPCOMING EVENTS
---
Time to start dreaming of summertime at the lake!
Silver Lake Church Camp registration forms are here…
If someone in your family is interested in signing up for a week this summer at the Silver Lake Conference Center — our wonderful United Church of Christ camp in beautiful northwestern (Sharon) Connecticut — just stop by the Church Office and pick up a registration form, or you can register on-line at silverlake.ctucc.org.
Conferences are available for those entering grade 4 and older.
NOTE: Financial aid is available for campers through the church and the Fairfield East Association of churches. Please talk to Pastor Bryn or Pastor Jen if you need to apply.
---
T
he Danbury overflow homeless shelter

is in need of volunteers.
Volunteers are needed to help with overnight shifts through April.
If you are interested, please contact Rev. Jennifer Whipple at
203-775-1259 or jennifer@uccb.org or Sue Slater.
---
Women's Fellowship
What is your Saturday morning like? How about taking an hour just for you? Join us for joys and concerns, fellowship, a light breakfast (bring your own drink) and a reflection/conversation. We meet from 8:30 to 9:30 in the Youth Room. If you have any questions or concerns please contact:
Carol Howe Sharon Santi
---
Volunteers Needed
We are looking for some new faces to add to our TFC line up! Do you have a special talent like playing the spoons, creating balloon animals or miming? Could you use that talent to capture the imagination of our youngest parishioners? Or is your special talent that you love children? Do you have a special message you would like to share with our youth? Are you looking for a simple yet personal way to contribute to our church life? If you answered "yes"," maybe" or "I hadn't thought about that" to any of these questions Time For Children may be just the thing for you! A message during our Time For Children should be short and sweet, and that's what makes it a simple way to make a big impact on our children. There are even websites like www.sermons4kids.com and www.childrensermons.com that give detailed ideas to help inspire you. So, please contact Melanie Shapiro if you would like to become a part of this very special ministry.
---
LIKE us on Facebook!
See photos and posts about this weeks events.
Search for: Congregational Church of Brookfield
---
Thursday Morning Prayers & Bible Study
9:00 to 10:30am in the Church Library
Begin your day with a time of quiet contemplation in a simple ministry of prayer, as we lift up the names of those who are sick or grieving, who are in discernment, or have thanksgiving or celebration to share. We will have a brief Bible study of our weekly lectionary scripture texts, led by Senior Pastor Bryn Smallwood-Garcia. Join us every Thursday, or drop in as you have a need for prayer or a morning free for study.
---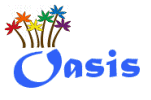 New Ministry - Oasis: In response to the needs of the lesbian, gay, bi-sexual, and questioning youth in Brookfield and the surrounding area, we have formed Oasis. Oasis (a mission of the Church in Society Committee) is a community gay-straight alliance where 13-19 year old youth regardless of sexual orientation, gender identity, race, religion, economic status, or physical ability may TALK together, BUILD community, and offer mutual SUPPORT in a safe, relaxed, and confidential environment. For more information, resources, or ways to be involved, visit the church website www.uccb.org, email oasis@uccb.org , or call 203-775-1259.
---
Electronic Giving is here at CCB!
The Stewardship Committee has enrolled our church with Vanco Services to provide our members and friends the option of giving one time gifts or paying pledges electronically. Electronic giving offers convenience for members and provides much needed donation consistency for our congregation, like during the summer months.
To enroll in this service, click here. At the top of the Stewardship page is a banner with a link to our secure on line giving site where you can enroll. We on Stewardship are excited about this new option. We are here to assist you if you have any questions.
<![if !mso]><![endif]>
---
Attention internet shoppers!
Now the church can receive a 2-40% commission on every on-line purchase you make, if you use CCB's new internet shopping portal. There are stores like Macy's, Toys-R-Us, Babies-R-Us, Drugstore.com, Kohl's, Target, Home Depot, Best Buy and 1,400 more. Just visit http://www.shoptoearn.net/uccb and click on Retailers, scroll down and find your favorite store to shop in.
IMPORTANT: Enter this web address directly into your computer browser. Close all tabs when doing this, and be sure you do not use any default search engine (Google, etc.), or the church will not receive its commission when you shop. If you have questions, more information on how this works is in the December issue of CrossWays, or you can call Margitta Savo.
---