An update from the Refugee Resettlement Ministry…
"Do not neglect to show hospitality to strangers, for by doing so, some have entertained angels unawares."
The Letter to the Hebrews 13:2
It's hard to imagine a more urgent time for our church to reach out to show holy hospitality to our brothers and sisters in need than right now. Each day, it seems the international refugee crisis gets worse -- most recently, with war in Syria driving thousands of frightened families to flee their homes, and their home country.
During worship each Sunday last October, we heard some powerful testimonials (see videos below) from former leaders of our Refugee Resettlement Ministry who have helped to offer our UCC "extravagant welcome" to a wide variety of refugee families -- from our first West African couple, Annie and Lloyd, more than a decade ago, to our most recent Iraqi family, Ahmed and Wedyan, in 2013.
By March 2016, we had a new Syrian family living in our Cottage. Although it was but a temporary stay by a family being resettled by another group in Bethel, it energized and excited our growing team -- which now includes partners in ministry from Valley Presbyterian Church in Brookfield. By May that family was able to find other housing in the area. Also, we had recruited enough volunteers to be able to host our own new family. They arrived safety in New Haven on June 2, and in 24 hours (just on the eve of Ramadan), they were settled into our Cottage with the chance to make a fresh start in this free country.
What a joy it has been over the past weeks to get to know this family -- especially to play with their small children and to see the eldest start Kindergarten across the street at Center School. On so many sunny days, I hear their laughter outside my office window as they play on our swing set with child care volunteers as their parents study English down the hall in the Church School Wing with our faithful ESL volunteer tutors.
This year, we will mark our October 2 World Communion Sunday with a special "in between" program to Greet Our Refugees at 9:30am in Fellowship Hall where the entire church community can welcome and get to know our current Syrian family and hear their stories. (Their English gets better and better each day, as does our Arabic!)
Over the years, some of the most faithful acts of Christian service to others that I have had the privilege to observe here at the Congregational Church of Brookfield have been through our Refugee Resettlement Ministry. But more than that, I consider them impressive acts of patriotism as well. One of our Vietnam Veterans donated to their house a brand new American flag, in a spirit of our United Church of Christ "extravagant welcome."
After all, when our Pilgrim ancestors first came to the shores of New England in 1620, they were also refugees -- fleeing religious and political oppression in their homeland in England. It is in deep in our Congregational DNA to do this kind of work -- it is a powerful testimony to our faith heritage.
I hope you will also be inspired, and feel called, to join in this important ministry with us.
Blessings,
Rev. Bryn Smallwood-Garcia,
Senior Pastor
Summer 2016
---
Video Testimonials
An update from Refugee Resettlement Ministry…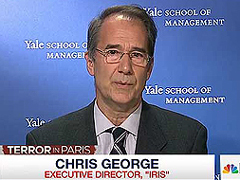 MSNBC LIVE WITH TAMRON HALL 11/18/15
Refugee screening: 'US has the most rigorous process in the...
Chris George, Executive Director of 'Integrated Refugees and Immigrant Services' of New Haven, Connecticut talks to Tamron Hall about concerns over the refugee screening process. Duration: 3:51 Click here to view.
---
---
Where Ahmed and family are now, in 2015.
Wedyan became a Certified Nurses Aide in 2014, and is currently working at Danbury Hospital. She has also been taking courses at Naugatuck Community College, in order to prepare her for higher education in this country. Most recently, she got accepted to the Nursing program offered by the hospital to become a full-fledged nurse! She is well on her way to achieving her dream, and of using her God-given talents to help others in the way that seems right to her. This is something that has always been important to her.
Ahmed is working for Praxair in Danbury. He started out in their credit and collections department, and has recently been promoted to Business Analyst dealing with marketing and strategy. On his free time, he enjoys taking care of his chickens and his expansive yard.
Both Nail and Rahmah are doing well at Huckleberry Hill. Nail enjoys Cub Scouts and learning about the outdoors, and Rahmah is also involved in scouting, and also loves to draw.
Ahmed's mother arrived to live with them in 2013. She helps out by taking care of the children when both their parents are at work, and by providing sumptuous meals for the entire family!
Wedyan's cousin came to this country in 2014, and is also living with them. The rather spacious house they purchased here in Brookfield has been a blessing to the whole family! He worked for Macy's as a seasonal employee when he first arrived here, and now works for Danbury Hospital. He is also taking courses at Naugatuck Community College, in an effort to move himself up in the working world in this country. When he can, he is Ahmed's right-hand man, helping out with yard work and tree work.
They have all found ways to give back to their new community, and are working on becoming all that they were meant to be, enjoying the freedom to grow and learn that is such a blessing of living in our wonderful country!
---
2013 Refugee Resettlement Ministry
Ahmed began this update for me when he said, "We've been here just about a month, and so much has happened since then!" How true it is, thanks to the generosity of our volunteers, and to Ahmed and his family's willingness to embrace their new lives in this country.
Wedyan has been working hard to perfect her English, and is hoping to be a Certified Nurses Aide and eventually a nurse someday. However, she wisely wants to work somewhere first in order to improve her English, before taking a certification course that may require her to have a greater command of the language. She is an excellent cook, an avid gardener (stop by sometime to see the new vegetable garden next to the cottage!), and a wonderful hostess to all who come to visit.
Ahmed passed his road test, and is looking for a car. He has put together a very impressive resume, with input from some members of the church who have knowledge in this area. He has been to an interviewing workshop, and several interviews. Both he and Wedyan are excited to find jobs, and we are still pursuing a variety of options for them.
The children are enjoying their new school, with Nail in Kindergarten and his sister Rahmah in pre-school. They were tutored in English over the summer, and are now using their new language with each other, and with friends on the playground! How fun it is to see children learning by leaps and bounds, and enjoying their time with anyone who will communicate and play with them!!
The biggest hurdle they had to overcome was Wedyan's medical situation. In early August, they were told that she has a carcinoid tumor in her bronchial tubes, and that it is cancerous. Thankfully, it is a slow-growing tumor that will not spread, but it needs to be removed. Although it is quite scary to have to face such a serious medical issue in a new country far away from their friends and family, both Wedyan and Ahmed are being very brave and positive. They are happy that she will now be able to get the medical care she needs. Wedyan is home now, recovering from her surgery. Our volunteers have gone above and beyond the call of duty to be their new friends and family, spending countless hours at the hospital in New Haven and showing them all the love and support that they need and deserve in order to help them through this difficult time.
One thing that I am continually amazed at as I work with this ministry is how truly special and amazing our volunteers are! From babysitting at 6:30 am at the last minute, to spending three hours at a health clinic waiting for all of them to see the doctor, our volunteers continue to go above and beyond to help this wonderful family get what they need as they go about starting new lives in a foreign country. I feel so proud of this church, and blessed to be able to work with so many unbelievably special people….people from both Connecticut and Iraq!
A special thanks to all the volunteers for all you are doing, and to Ahmed, Wedyan, Nail and Rahmah for sharing their warmth and hearts with all of us! Please continue to pray for the employment needs of this family, and for their beautiful children as they continue to adapt to their new home in a new country.
In His love,
Sue Waschak,
2013 Refugee Resettlement Coordinator

---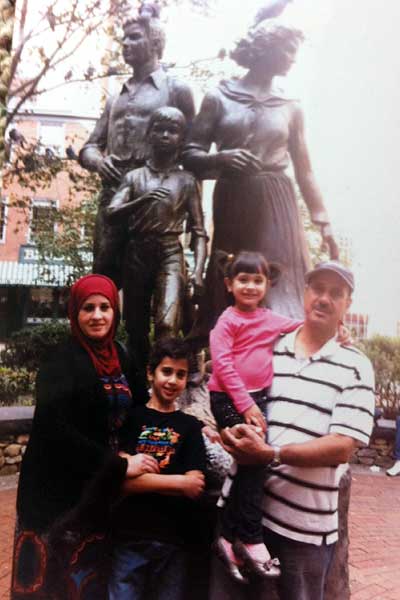 ---
2010 Refugee Resettlement Ministry
When IRIS (Integrated Refugee and Immigration Services) asked our church for emergency help in January, our congregation responded immediately. Our Cottage became a temporary home for a mother and her three children from West Africa. Within hours of our request, many donated enough staples and canned goods to see the family through the worst January weather in Connecticut history - and way beyond. Even more important for the family is the support and sanctuary given by our church. We would like to thank you for your help with childcare and transportation. Our volunteers enjoyed getting to know this lively, delightful family over the months that they were with us, and we can celebrate that we were able to get them a fresh start in the United States.
Thank you -
Jen Wurst & Patty Buchan,
2010 Refugee Resettlement Coordinators
This page was last updated on 09/02/2016 11:40 AM.
Please send any feedback, updates, corrections, or new content to .