Yankee Fair and Barn Sale
Sat. Oct. 19, 2019
"1969" - Age of Aquarius
**Note From Your Fair Chair's**
Please remember to bring your own RE-USABLE Bags.
We are a plastic bag free fair.
And, Cash and Checks only!!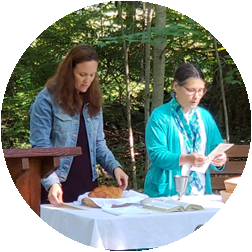 Sunday Worship
8:30 a.m. - Family worship. Nursery care and one-room Church School for pre-K to grade 8.
10:30 a.m. - Family worship with Choir & Church School. Age-graded classes from pre-K thru 8, and nursery care.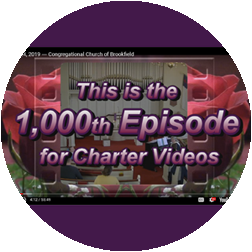 The above clip and many more from The Media Team are available online. Search "uccbvideo" at YouTube.com or click on the image.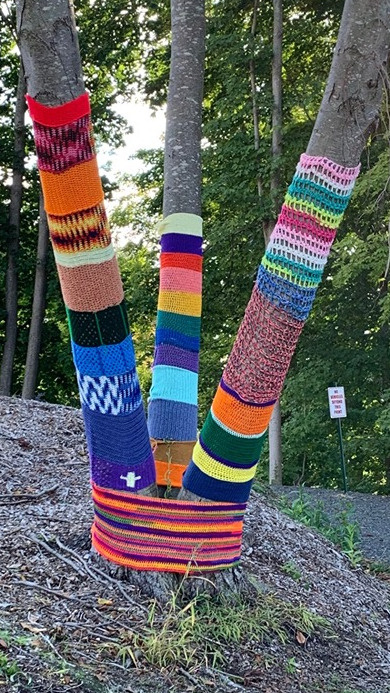 Our Decorated Trees…
The Congregational Church of Brookfield spent summer 2019 in both adult worship and church school learning Bible stories that taught us about various gifts of God (love, power, forgiveness, protection, guidance, etc.). We connected each of those gifts to a color of the rainbow (plus black, white, brown, and transparent) and each week added a color to our first "knit bombed" tree — at our Outdoor Chapel — and to our wreath inside the Meetinghouse. While we were learning, some of our members were knitting and crocheting to prepare us to share our summer theme, "God Created Color," with our community this fall. Our hope is that we not only spruce up our church campus a bit, but remind all of us that God is always around us and offering us all of those gifts and more to help us to be more faithful disciples out in the world.
God Created Color:

Let the Colors Fill You

On Trinity Sunday, June 16th, we began our Summer Church School season, following along with many of "The Bible's Greatest Hits" stories our children had been reading in their children's picture Bibles for years. Each story, we felt, held some Good News about God's promises to us and revealed some beautiful facet of God's character. That first Sunday, we welcomed former Physics teacher David Telesco, who had built a prism apparatus through which incandescent white light was refracted into its rainbow components -- a wonderful example, we thought, of the way God is ONE and yet offers us many and varied gifts of wisdom through scripture. By connecting each lesson with a specific color we hoped to help our children remember one of these subtle shades of God's majesty and merciful love. And besides that, as we remembered our call to be co-Creators and care-givers with God, they learned to knit and crochet from many of their elders in our Prayer Shawl Ministry. Their crafts skills are now displayed on our trees.
June 16: White/God's Glory - "God's Glory Shines" - based on the Creation Story in Genesis 1
June 23rd: Black/God's Presence - "God Is With Us In the Darkness" - based on Psalm 139 and Noah's storm and flood
June 30th: Rainbow/Unity in God - "God in Christ Unites Us" - based on the Rainbow Covenant at the end of Noah's Ark
July 7th: Red/God's Power & Gift of Courage - "God's Power Sets Us Free" - based on the Exodus & Parting of the Red Sea
July 14th: Orange/God's Protection - "God's Angels Protect Us" - based on the story of the fiery furnace in Daniel
July 21st: Yellow/God's Guidance - "God's Vision Guides Us" - based on the story of Jacob's Ladder in Genesis
July 28th: Brown/God's Leading - "God's Hand Leads Us" - based on Hosea 11:1-11
August 4th: Green/God's Teaching - "God's Teachings Change Us" - based on the story of Zacchaeus in Luke 19
August 11th: Blue/God's Forgiveness - "God's Forgiveness Saves Us" - based on the story of Jonah
August 18th: Indigo/Forgiveness Part 2 - "God's Helps Us Forgive Ourselves" - based on the Psalms (Guest Preacher)
August 25th: Purple/God Gives Us Gifts - "Christ's Life-Giving Love Lifts Us Up" - based on Luke 13 (the Healing of the woman bent over double for 18 years)
September 1st: Transparent/Power of the Holy Spirit - "The Holy Spirit Shapes Us" - based on the healing of Namaan the Syrian in 2 Kings 5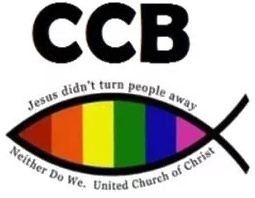 Listen to the Congregational Church of Brookfield's new

PODCAST.
Don't have time or an internet video connection?
Subscribe to our new podcast and listen on the go to past sermons.
Click on: https://soundcloud.com/user-98392082
or click on the logo.
We Have PLANS! Get a closer look!
Monday evening, September 16th 7:30-9pm the architects on the Fellowship Hall feasibility study presented their findings and proposed design solution on how we might meet the defined objectives developed over the past year by our Fellowship Hall Task Force. The information developed in this feasibility study will give us a sense of direction to consider as we address the needs of Fellowship Hall.
The Church office has DVDs of the presentation if you were not able to attend. Call or email Jeannine.
1
Our Church encourages people to grow in their faith. We look to support each other in taking action.

2
In our community, we love when forgiveness is sought and celebrate together when life brings new beginnings.
3
Partaking in our community allows us to understand and confront situations and learn and prosper from them together.
Simply place cash or checks in offering plate during any Sunday service.
Online giving can be managed below

through our secure
or the NEW Pushpay App
Giving is an act of worship, of love and gratitude.